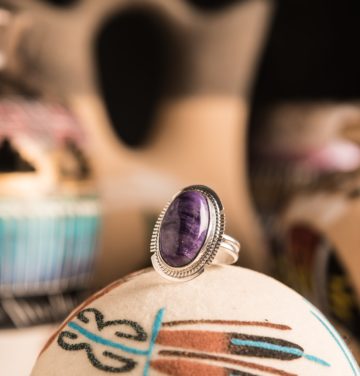 Charoite Ring
Charoite is a beautiful and interesting gemstone which was first introduced in the U.S. around 1976. Its vivid colors range from lavender to deep chatoyant purple. There is only one location it is found in the world, the Murnu Mountains near Yakutia, Russia. What makes this stone interesting is its full range of character from a solid color to zones of swirly mixtures of silky purple chatoyance and sprays of black. Charoite is said to be "The stone of the Spirit". Wearing Charoite is believed to enhance self-esteem, accelerate spiritual growth and to soothe emotions, giving security. Charoite changes loneliness to love and warms the heart, it shows you the way through your fears and finding peace.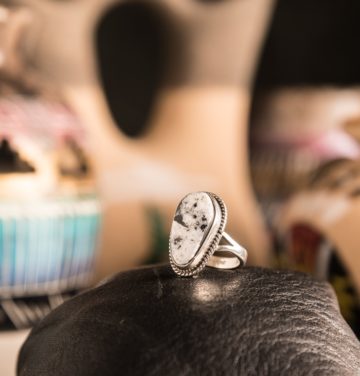 White Buffalo Ring
White Buffalo is a beautiful white stone with fine black spider web or kind of a blotchy matrix. Sometimes you will also see brownish black matrix as well. White Buffalo is formed from the minerals Calcite and Iron. White Buffalo is only found in one mine is near Tonopah Nevada. It is mined by Danny and Dean Otteson, which classified White Buffalo as a turquoise, as it is a similar hard stone as turquoise the only difference is it is lacking copper. It is questioned at times by definition because turquoise contains copper aluminum phosphate, which is what gives it the blue color. White Buffalo has no copper and no blue color. Otteson notes that, like turquoise, it lies in veins surrounded by black chert "Until someone can prove differently, we're going to call it white turquoise from the White Buffalo mine," Otteson says With the ages, this will be debated but in the end, it is a beautifully bold stone that makes a statement in its black and white colors and so rare to be only found in one area in the world.
Legend has it that the Native American Indians danced and rejoiced when the rains came. Their tears of joy mixed with the rain and seeped into Mother Earth to become SkyStone Turquoise.
Turquoise, the "fallen sky stone" hidden in the Earth, has been valued by cultures for its beauty for over 7000 years. It is a true gem of the centuries. A long time ago someone noticed a clear blue line running through a gray rock, and saw the imagery of sky and water in stone, and from that time on, turquoise has been cherished above all else in creation - turquoise the stone of blessings, good fortune, protection, good health and long life.
To the Native Americans, turquoise is life. Turquoise, is known for its positive healing energy, and as a protector. If you're wearing a turquoise ring and you look down and see a crack in your stone, the Native Americans would say "the stone took it", meaning the stone took the blow that you would have received.